Private 5G
A commercial-grade 5G solution that can have your private 5G network up and running in minutes
Download Brochure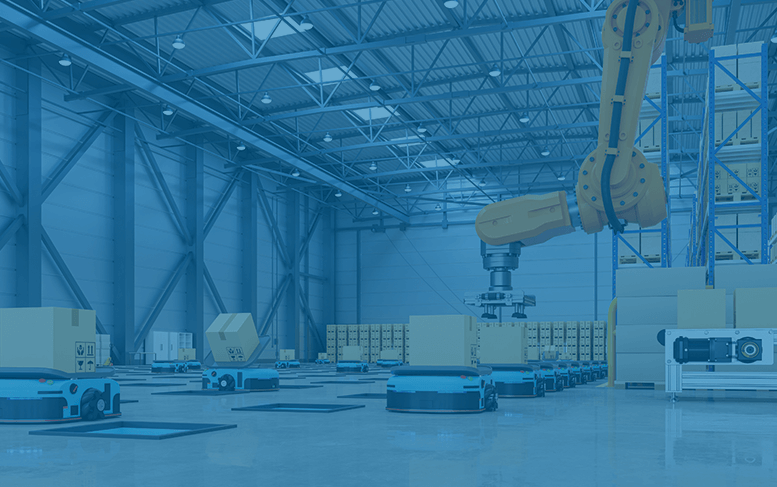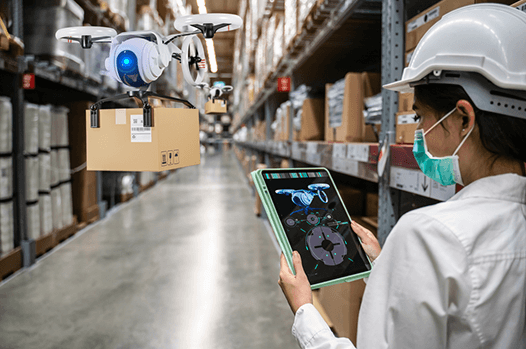 Powering Enterprise 5G Deployments
Amantya's Enterprise 5G Network is a high-performance, end-to-end private wireless solution designed to meet the emerging needs of enterprises exploring new-age 5G and IoT use cases.
Comprising an Radio Access Network, 5G SA Core, and a high-performance User Plane Function, Amantya's Enterprise 5G solution delivers high speed, reliability, and security, improving the enterprise's productivity, connectivity, and operational flexibility.
Talk to Us
Public vs Private Networks
Public Networks
Public networks are configured for "best effort" service-level agreements (SLAs) to deliver average performance for external voice and data connectivity
Security can be compromised and tough to personalize
Users must be in an area covered by an operator-owned and deployed 5G network
The network provider controls the network settings
Private Networks
Private 5G networks are required to serve extremely high reliability and ultra-high SLAs with ultra-low latency applications and super high data rates
Highly secure and personalized
Access is restricted to single-end users (the enterprise itself) that have the license for the private network
The organization has complete control of network settings
Amantya's Private 5G Solution
Comprehensive Solution
Amantya's Enterprise 5G Solution comprises a Radio Access Network (RAN) Hardware, a SA 5G Core, and a high-performing User Plane Function. The advanced end-to-end solution can get a private 5G network running within minutes.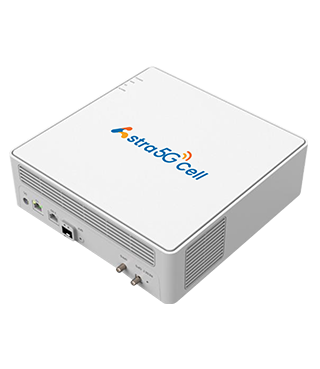 5G RAN
Powerful Management Portal
The simple yet powerful web portal allows enterprises to monitor, manage and customize their private 5G network as per requirement. Whether you need to configure sims, check alarms, monitor speeds, or create/manage multi-local networks – you are just a click away.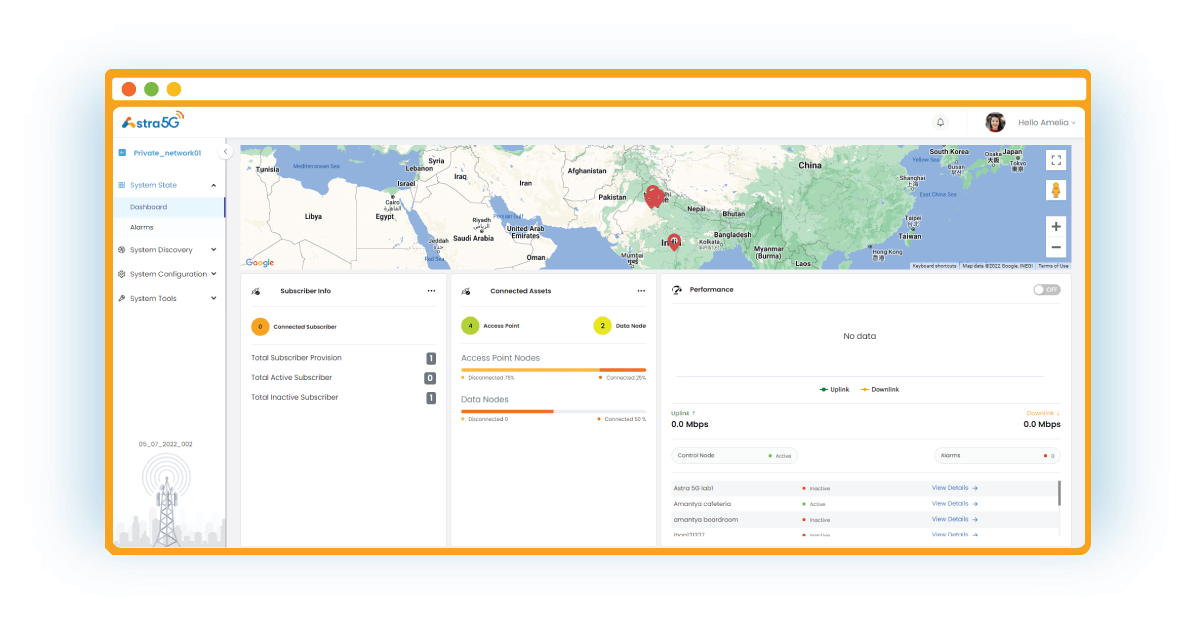 Flexible and Easy to Use Solution
The one-touch start-up functionality and pre-configured settings help set up your private 5G Network in minutes, with minimal effort. Moreover, Amantya's Enterprise 5G Network is an entirely standards-based solution that makes integrating seamlessly with your existing infrastructure easier.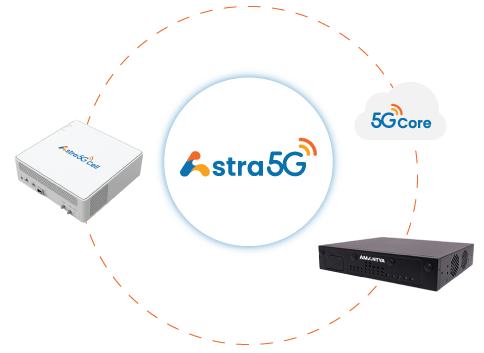 Amantya's Enterprise 5G Deployment Models


Amantya's Astra5G Offers You
Private Coverage
Only the enterprise's devices can use the network, guaranteeing high performance
Comprehensive
Contains all components required to run an enterprise network – RAN, Core, UPF
Security
Encrypted Signaling and Network Exposure for better security
Standards-Based
3GPP standards-based RAN and Core
High Performance
40 Gbps Aggregated Data Throughput
Easy Integration
Easily integrable with 3rd party gNodeB vendors and Qualcomm-powered UES
Flexibility
Multiple deployment methods to enable better flexibility
Interactive GUI-Based Interface
Highly interactive interface making it easy to manage & monitor enterprise 5G network
Advanced Features
Supports Network Slicing, Quality of Service (QoS), and Service Data Flow (SDF)
Use Cases
Astra5G will create unprecedented opportunities for enterprises to generate and deliver new services and experiences to their customers. Listed below are some of the use cases it supports.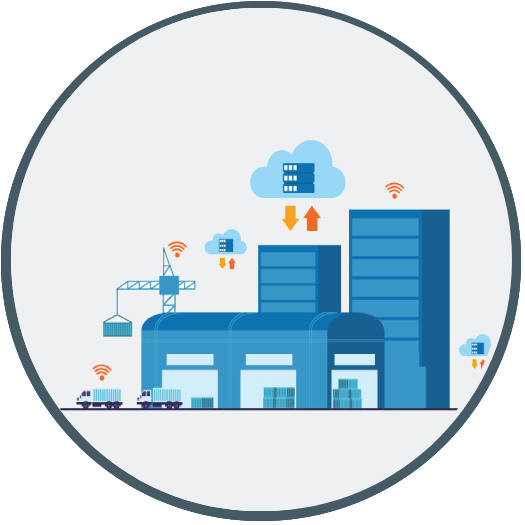 Astra5G will enable large venues like malls, airports, stadiums, etc., to explore private 5G use cases around smart facilities that combine AI and IoT in transformative ways.
Private 5G is poised to play a vital role in improving the density and performance of autonomous vehicles, robotics, and other automation technologies in the manufacturing domain, accelerating Industry 4.0.
Provide retailers with uninterrupted business, a reliable on-premise network that handles peak-time traffic effectively, extreme personalization with AR/VR, and fast access to central systems for streamlined real-time operations.
Frequently Asked Questions
A private 5G network is like a Local Area Network (LAN). The prime difference between the two is that instead of using Ethernet or Wi-Fi to connect to servers or devices, a private 5G network uses a 5G capable spectrum to build a dedicated bandwidth and infrastructure for an enterprise. Built with a company's dedicated micro towers and small cells, a private 5G network enables businesses to use all inherent benefits of 5G technology to design and manage their connectivity needs independently, without the need for a public service provider.
Know More
Unlike public networks, private 5G networks can be configured and customized keeping in mind business-type, size, and operator's specific needs. From offering benefits like enhanced security, network slicing, far lower latency, superior bandwidth to improved Quality of Service (QoS), among others, a private 5G network is fast proving to be a cornerstone of industrial digital transformation.
Know More
Advantage of private 5G network are:
Superior Service Security
Private 5G offers a more secure and tamper-proof network, vis-a-vis current wireless networks as it is a superior service security model designed on SIM-based authentication, instead of password protection in Wi-Fi systems.
Know More
Network Slicing
Network slicing allows the network to be optimized for the needs of specific user groups, devices, or applications within the same infrastructure.
Know More
Better Control & Reliability
By adopting a private 5G model, an enterprise gains more control and management of its operating processes.
Know More
Quality of Service
Running private networks on dedicated and customized 5G spectrum offers the possibility to control each such factor.
Know More
Dedicated Bandwidth
A private 5G provides a devoted network to the business, ensuring only authorized users can access the network at a particular time.
Know More
Ultra-low Latency
The ultra-low and controlled latency of a 5G network enables near real-time communication between hundreds of thousands of IoT devices, a critical aspect in applications like public safety or robotic motion control.
Know More
Interworking
The ability of a private 5G network to interwork with public networks is an important capability. It requires a high level of integration between networks, and private 5G can be designed for such seamless integration when required.
Know More
Wireless
A private 5G network can easily replace bulky and tough-to-manage wired networks by offering easily deployable, beneficial, and advanced wireless technologies to an enterprise, positioning itself as a frontrunner in industrial 4.0.
Know More
Potential Challenges of a Private 5G Network:
High Deployment Cost
Deploying a fully loaded private 5G network comes at a cost, which is not easy for smaller enterprises. This is where they can take the help of professional setups well equipped with the know-how of building a private 5G spectrum and can guide the company to achieve the purpose at optimal cost.
Lack of Qualified Technical & Operational Talent
The existing private LAN (wired Ethernet LAN, wireless Wi-Fi LAN) operation team does not have the know-how to build and operate private 5G networks. Therefore, getting access to a 5G-ready team can pose a challenge. However, reaching out to professionals who are future-ready in 5G technologies can help take care of this dilemma quite easily.
Susceptible to Cyber Crimes
Faster networks come with some security risks as well. For example, ultra-low latency and high speed can also inadvertently create new avenues for cyber-criminals, as more and more systems go wireless, it opens up more sources that might be susceptible to hacking. Therefore, businesses must take all steps to secure their networks by investing in the latest security systems, such as firewalls, VPNs, malware software, and putting both intrusion detection and prevention systems in place.
Listed below are 7 early private 5G use cases already proving their mettle. However, the buck doesn't stop with them.
Manufacturing – Industry 4.0
Healthcare
Smart facilities
Logistics
Oil and gas
Campus networks
Upgrading by current 4G users
Know More
Team Amantya has decades of experience in enterprise-managed networks and helping organizations unlock their mobile potential to modernize operations, drive innovation, and reduce costs. With the emergence of 5G, and our expertise in all its domains, including private 5G networks, globally, we are well equipped to help businesses leverage our expertise to build and operate their own private 5G networks.
Have an idea in mind?
Let's Talk