NB-IoT Small Cell
Next-generation simulation solution for NB-IoT networks
Amantya's NB-IoT Small Cell is a standards-based solution providing low complexity and long-range and low-cost connectivity for NB-IoT networks. The NB-IoT Small Cell's ability to extend the NB-IoT signal coverage locally enables OEMs and MNOs to test their devices in Amantya's state-of-the-art 5G Lab or create an in-house simulation environment.
A powerful, flexible, and compact solution, it is customizable to suit specific business requirements and can be used as a reference for targeting hardware performance testing.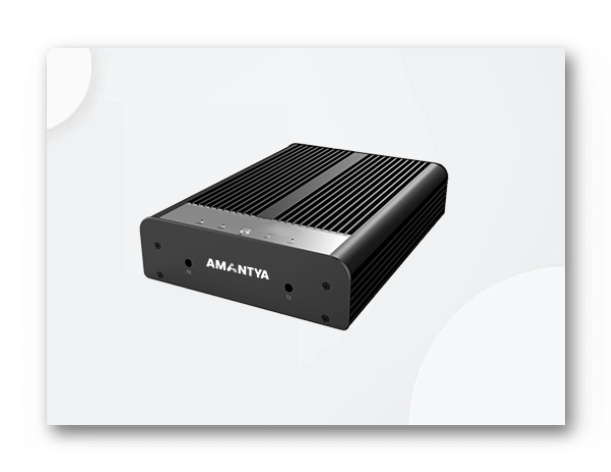 3GPP Release 13 NB-IoT Complaint
Dual Mode- CAT-M1 & NB-IoT
Intel Powered
Software Defined Radio
Lightweight & Compact
Supports Ethernet and Optical Port Backhaul
Peak Download Speeds of up to 1Gbps on Ethernet
Why Amantya's NB-IoT Small Cell?
Device Validation on Network APN

Throughput vs. Power Usage over time

NW reliability and Band Testing

Performance Check of Target Hardware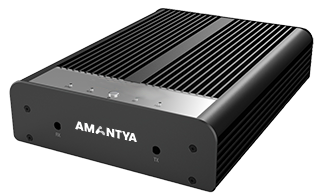 Coverage Enhancement

Power-Efficient

Easy to deploy, allows simple wall or pole mounting

Cost-Effective/ Minimal installation and commissioning costs
Specifications
Amantya's NB-IoT Small Cell specifications:
Backhaul
Ethernet - 1 Gbps

Radio Front End
SDR CS-Lime-01

Max EIRP
<= 10 dB

Channel Bandwidth
200 kHz

MIMO
2 x 2

Standard
3GPP 5G-NR Rel-15

CPU + Baseband Processor
Intel NUC9i9QNX

Wireless Communication
CAT-M1 & NB-IoT

Equipment size
24cm x 17cm x 5.5xm
Have an idea in mind?
Let's Talk